Written by Shawn Lake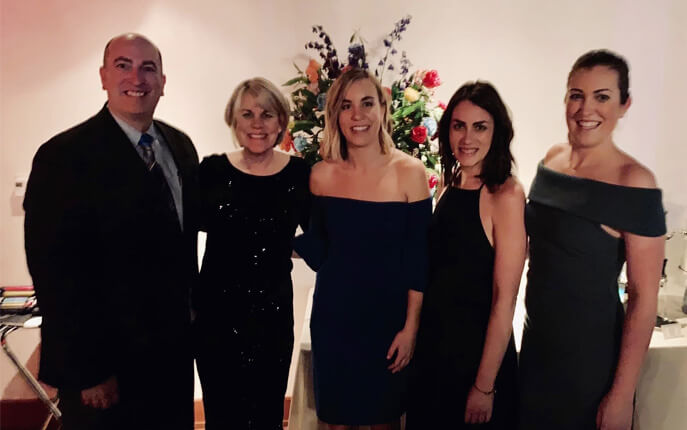 "We're all healthy," says Jane Dittoe Leeuw. "In my family, we don't consider ourselves to be sick."
That's a very positive statement, given that Leeuw and her siblings, the Dittoes, all have dilated cardiomyopathy (DCM). One of her three brothers has a transplanted heart and another has continuing problems with arrhythmias. And her sister, with whom she was very close, died in her sleep at age 62 of ventricular fibrillation.
That's a lot to live with. But for the Dittoe family, DCM doesn't define their lives. "We just take it in stride and keep going," Leeuw says.
More Questions Than Answers
For the Dittoes, family heart trouble started when the oldest brother, Jack, was diagnosed with mitral valve regurgitation in his 20s. Testing showed that all but one of the siblings also had leaky mitral valves, and most of them had their valves replaced or repaired.
"I thought I was perfectly fine once my valve was repaired," says Leeuw, who is the youngest sibling. "I thought, 'I'm good to go.'"
It turned out, though, that mitral valves were just the beginning of their story. Leeuw's brother Tom was diagnosed with DCM, and he was told that he would likely need a heart transplant at some point. Bob didn't have a valve issue, but he was hospitalized for atrial fibrillation and learned that he also had DCM.
When Leeuw's sister, Anne, died in her sleep in 2015, Leeuw was grief stricken. She couldn't stop thinking about all the heart issues in her family, and she went to see her sister's doctor.
"I wasn't trying to blame anyone," she says. "I just wanted to find some answers because it was not making sense to me."
Making Connections
Leeuw's conversation with her sister's doctor gave her hope that she would find the answers she was looking for. He told her that there could be a genetic cause for her family's heart problems.
The family had clinical genetic testing done at Ohio State University, and learned that they have familial dilated cardiomyopathy, an inherited form of DCM.
"In some ways it was a relief for me to know," Leeuw says. "It was always on my mind that we had something together as a family. And I was right."
Researchers at OSU identified a genetic abnormality that may be affecting Leeuw and others in the Dittoe family, and they are working on uncovering the full genetic background of the family's DCM.
The Risks of Denial
The information about their genetic risk for DCM made a lot of sense to Leeuw. It connected the dots of her siblings' heart problems, and may have explained her mother's atrial fibrillation.
"She lived to be 87, but she was the queen of denial," Leeuw says. "She never complained."
The subtle signs of heart disease can easily be dismissed. Leeuw and her sister would talk of their symptoms, which were similar, but both of them felt they were "fine" and probably ignored things they shouldn't have, which is the case for many with DCM.
Leeuw explains that Anne was THE caregiver of the family, from parents, aunts, uncles and other siblings. She was always putting everyone else first. Because of her death, they are all taking steps and being even more proactive with their heart health. Her death may have saved any one of them.
Our mission is to prevent a tragedy like this from occurring again in their family, Leeuw says.
Leeuw is discouraged that many members of her extended family haven't responded to her messages about having clinical screening for DCM. If they have DCM, they're missing out on opportunity for early intervention. And researchers are deprived of valuable information that could lead to better care.
But Leeuw still hopes the knowledge her family has gained can help the younger members of the family. "I know I have DCM and I take my beta blockers and move on with life," she says. "But with early interventions we could help our kids."
Early interventions for DCM, such as medicines, implanted devices and healthy lifestyle habits, can help people with this condition live better and longer lives.
Family Matters
Helping the kids is a high-value goal in the Dittoe family. An imaging technique called cardiac magnetic resonance (CMR), which uses MRI technology to examine the heart, helped find early DCM in the younger members of the Dittoe family. Two of Leeuw's three daughters, along with several of her siblings' children, have hearts that show early signs of DCM, though so far they are asymptomatic.
DCM is a complicated disease with an unpredictable course. Even its genetic basis has yet to be completely uncovered. With more work to be done on the genetics of DCM, more than 20 members of Leeuw's extended family participate in research studies at Ohio State University. They hope their family can add to the knowledge about DCM, and help others with this condition get the testing and treatments they need.
"I'm a firm believer in knowing," she says. "I'm glad I know I have it, so I won't ignore symptoms. I don't know what will happen tomorrow, but that goes for everybody. No one can predict what tomorrow will bring."
Medical Disclaimer: All DCM patients are different. Information presented on the DCM Foundation website is not intended to be a substitute for professional medical advice, diagnosis, or treatment. Please consult your physician, cardiologist, or other qualified health providers with any questions you may have regarding a medical condition and/or before doing any activity.