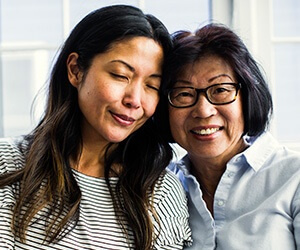 Dilated cardiomyopathy, DCM, has many causes and can be acquired or genetic. Genetic means a disease-causing change, or "mutation", has occurred in a relevant gene. That mutation may have occurred in prior generations or may be new as just having happened in a patient
1,2
. This type of DCM is called genetic DCM.
Research has been ongoing to look for the specific genetic link to cardiomyopathy, including DCM. Current research has identified over 50 different genes associated with this disease, but the majority of causes are linked to 12 genes 3.
TTN and MYH7 are two genes that are affected 4. The TTN gene creates a protein named Titin. The MYH7 gene creates the protein called β-myosin heavy chain. Both proteins play important roles for heart muscle contraction or for the pumping ability of the heart.
It is estimated that TTN mutations account for 12-25% of DCM and MYH7 mutations account for approximately 5% 3,4. Mutations in these genes do not allow the heart to function properly especially as many years go by.
Danicamtiv is an investigational drug that is being studied by Bristol Myers Squibb for this disease. Danicamtiv is being evaluated to see if it works on the heart muscle to help improve the function of the heart. Currently, there is an
ongoing phase 2 clinical trial
in the US and parts of Europe in patients with DCM caused by MYH7 or TTN mutations. This trial is being conducted to further understand the safety and cardiovascular effects of danicamtiv on the heart's pumping ability.
Please click here to visit BMS Study Connect
to learn more about the study and take a pre-screener to see if you qualify.
1 NIH National Human Genome Research Institute website https://www.genome.gov/genetics-glossary/Inherited
2 NIH cardiomyopathy website https://www.nhlbi.nih.gov/health-topics/cardiomyopathy
3 Francesco Mazzarotto, et al. Circulation. 2020. https://www.ahajournals.org/doi/10.1161/CIRCULATIONAHA.119.037661
4 Andrew N. Rosenbaum, et al. Nature Reviews Cardiology volume 17, pages286–297 (2020) https://doi.org/10.1038/s41569-019-0284-0