This article is a follow-up to our most recent article regarding the potential for Apple devices to interfere with medical devices.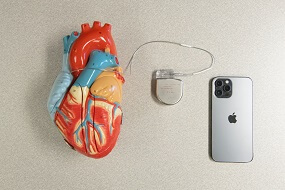 On June 25, 2021, Apple released an updated list of its products that may interfere with medical devices, stating:
"Under certain conditions, magnets and electromagnetic fields may interfere with medical devices… For example, implanted pacemakers and defibrillators may contain sensors that respond to magnets and radios when in close contact."
It is recommended that users keep Apple products more than 6 inches apart from medical devices or more than 12 inches apart if charging wirelessly.
The following Apple products may contain magnets and should therefore be kept away from medical devices:
AirPods and charging case
AirPods wireless charging case
AirPods Pro and wireless charging case
AirPods Max and smart case
Apple Watch
Apple Watch bands with magnets
Apple Watch magnetic charging accessories
HomePod
HomePod mini
iPad
iPad mini
iPad Air
iPad Pro
iPad smart covers and smart folios
iPad smart keyboard and smart keyboard folio
Magic Keyboard for iPad
iPhone 12 models
MagSafe accessories
Mac mini
Mac Pro
MacBook Air
MacBook Pro
iMac
Apple Pro Display XDR
Beats Flex
Beats X
PowerBeats Pro
UrBeats3
As always, please follow the guidance of your cardiologist and medical device manufacturer.