As we reported back in February, newer models of smartphones, such as the iPhone 12, can interfere with the operation of cardiac implantable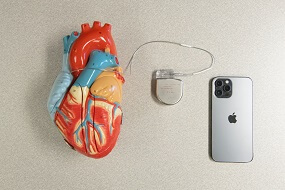 electronic devices (CIEDs) if the phone is placed in close proximity to the device or over the device.
As per the latest study referenced below, "Magnet wireless charging is being utilized increasingly in current-generation smartphones. Apple's MagSafe is a proprietary wireless charging technology with an array of magnets that has the capacity to generate magnet fieldstrength >50 gauss (G)."
Ongoing studies are being conducted to further determine the effect of iPhone devices on CIEDs. The most recent study found that:

"Apple's iPhone 12 Pro Max MagSafe technology can cause magnet interference on CIEDs and has the potential to inhibit lifesaving therapy."
To learn more, please click here to read the study abstract in the Journal of the American Heart Association.
For additional information, follow Doug Rachac on YouTube for regular device updates: https://www.youtube.com/user/flamtap92