"DCM & Heart Transplant: 3 Patient Stories"
Date: Wednesday, December 1, 2021 – 6:00-7:00 PM ET

Details:
Join us as we learn about DCM and the successful heart transplant journeys of three heart transplant recipients.
Adam Burkhart – 20+ years post-transplant
Kaitlyn Amos – 3+ years post-transplant
Greg Ruf – 4+ months post-transplant
Hear from each about their heart transplant journey, including the gratitude they have for being given the gift of life, and the physical and emotional aspects of the transplant process. We hope you can join us for this special event. Note: All webinar registrants will receive a recording after the webinar.
Topics:
The gift of life
Physical aspects of the transplant process
Emotional aspects of having a heart transplant
Living well after a heart transplant
Live Q&A
Date: Wed., December 1, 2021
Time: 6:00-7:00 PM ET
Speakers Include: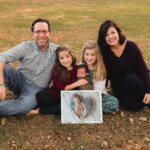 Adam Burkhart – 20+ years post-transplant
Adam first experienced symptoms of DCM at the age of 17. After being diagnosed with congestive heart failure, he ultimately received a new heart on September 14th, 2000 and went home just a few days after his 18th birthday.

More than 20 years later, Adam feels as healthy as ever, living a normal life. He is married, the father of four children, and a successful businessman. Genetic DCM runs in Adam's family and a number of family members have tested positive for dilated cardiomyopathy and he wants to reiterate that organ donation is the most selfless thing anyone can do.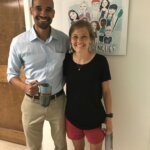 Katilyn Amos – 3+ years post-transplant
Kaitlyn was raised in Waco, Texas, and grew up playing sports. In 2006, she went on to study at and play soccer for Baylor University. She was diagnosed with dilated cardiomyopathy in 2007. After graduating from Baylor in 2010, she moved to Charlottesville to begin her career and received an ICD in 2011. As a result of her continued declining health due to DCM, on November 27th, 2018 she received a new heart.
Today, Kaitlyn is employed as a cardiovascular genetic counselor at Duke University Medical Center, making an impact on her clients just as her genetic counselor (pictured here) did for her.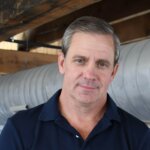 Greg Ruf – 4+ months post-transplant
President, DCM Foundation, DCM patient, Heart Transplant Recipient
Greg has launched and financed seven separate entrepreneurial ventures, six of which have been financially successful. He currently spends his workdays helping the DCM Foundation grow and does small business coaching. 
In 2014, Greg was diagnosed with DCM with an extremely weakened heart muscle and conduction system disease requiring a pacemaker. Through genetic testing, it was revealed he had three mutations, two in the LMNA gene and one in the TPM1 gene, which were responsible for his DCM. Nine of Greg's family members have been identified with gene mutations known to cause DCM.
After a period of failing health, Greg received a new heart on July 15, 2021. Greg lives in Dublin, Ohio with his wife Brenda of over 30 years, and together they have three grown children and two grandchildren.
Click here to register for this webinar.