On January 13, 2021, Dr. Ray Hershberger, a member of the DCM Foundation Board of Directors, received the first of his two COVID-19 vaccines.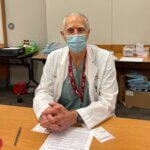 To view a brief video of this event, please click here:
Congratulations Dr. Hershberger and thank-you for your continued care of patients during this challenging time.
Dr. Hershberger is a heart failure cardiologist and DCM researcher. As you can see from the video, the vaccination was easy and painless. He was monitored for 15 minutes after receiving the vaccine and had no side effects except for a slightly sore arm for about a day. He was scheduled for his second vaccination before he was discharged. Dr. Hershberger will continue to wear his face mask, social distance, avoid gatherings of people and practice good handwashing until informed by the CDC that these measures are no longer necessary. These measures continue to be very important in addition to vaccination to decrease the spread of the virus and decrease the huge burden on our health care resources.
Continue to be proactive about when you can receive your vaccination by checking with your state and county health departments, and health care team.
Stay safe and be well.